Are you a facebook/twitter user? I think most of you are right? Want to earn some extra cash or you need a platform to promote some???
JOIN ME AT GUSHCLOUD NOW!!!
You get paid by posting messages/advertisements on your facebook wall or twitter timeline via Gushcloud. It's easy as that!
I personally uses facebook and twitter almost 80% of my free time and this platform allows you to earn by using them. You can promote your business, your blog, your twitter, your youtube channels, your favourite singer, EVERYTHING! And the people using it now is growing rapidly and going world wide.
Let me guide you through the site now!
First, get yourself to Gushcloud's site at
http://www.gushcloud.com
You know what's so good about this? You don't have to fill in pages of forms for registration. You just have to log in with either your facebook or twitter account!
log in both so that your GushScore will be higher! You can also link up your blog if you have one.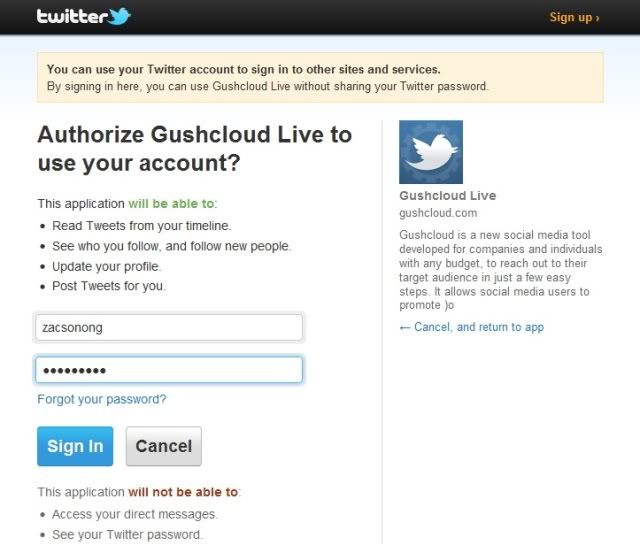 what's GushScore?
Gushcloud's currency.
there are 3 different tasks. Facebook, twitter and blogging task. By clicking "Gush This" the task will be completed and the stated amount of GC will be credited to you.
The money you earned can be collected at the end of every month by either Paypal or iBanking.
Alright. Now let's assume you have something to promote. For this example, I will be creating a twitter task, requesting people to follow me on twitter.
Let me bring you through this step by step.
Firstly, click on "Create Gush Cloud" and then the type of task you wish to create.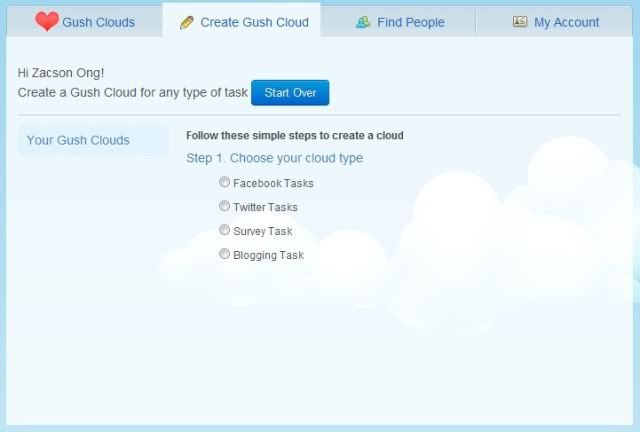 For this example, I'm promoting my twitter account so I enter my twitter's ID, ZacsonOng.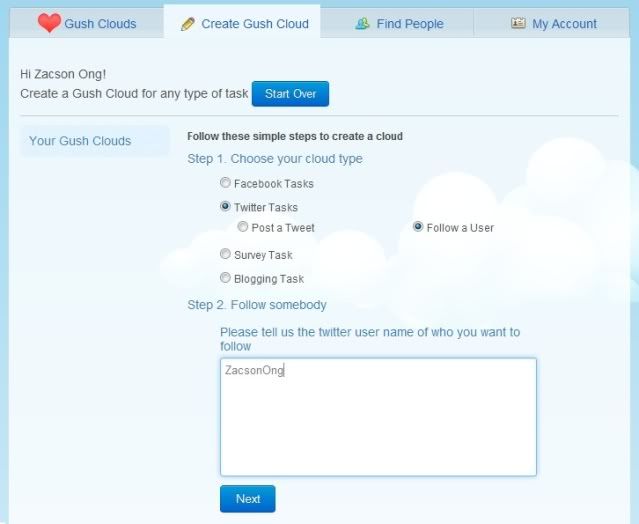 There's 2 ways to do this. Either you pay people that gushes your cloud, or letting them gush it as an act of kindness. As you can see, I'm replying on people's kindness for my cloud :)
Give your cloud a title and an avatar picture!
If you want your cloud to be more efficiently promoted, of course by offering some reward would do the job!
For a start, you have to set your budget. Once your budget has finished, your cloud will be removed. Do take note that a 25% transaction fee will be applied to the reward amount.
There's 2 ways of doing this, you can pay judging on the Gushers' gushscore or...
By setting a fixed amount of reward!
That's not all! You can choose your target audience and invite them to gush your clouds! You can search them by their age, interest, gender and country!! For mine, I've set it to public so every can gush my cloud.
But if you're promoting something that targets a certain age group. you can filter them out and invite them to gush your clouds. Simple as that!
Just a few minutes and it's done!
You can also check your clouds activity here! Just click on "View Activity Graph" and you can see how many people participated, percentage of male vs. female and many more statistics!
Give it a try! You won't regret!
11:32 PM